Expertise
The SAPA team is happy to assist with any searches and projects.
The SAPA team can advise on the use of the various databases and provide valuable information on a wide range of topics. Please don't hesitate to contact us.
The SAPA team has specific expertise in various fields: information sciences, academic research, outreach activities, etc. The team attends scientific colloquia and belongs to working groups involved in identifying trends and creating standards.
With the breadth of its specialist knowledge, SAPA can offer all kinds of support to institutions and private individuals:
Are you writing an academic thesis? Or a scientific or journalistic article? Then come to us with your research and we'll help you gather material of interest from our collections.
Do you own items of cultural heritage from the performing arts and need help with conservation, restoration, digitisation or long-term archiving? This is the core of our work. We'll be glad to share our industry expertise with you to find suitable solutions.
Do you wish to convey to an audience how archiving works, which standards must be observed, or simply how cataloguing cultural heritage works in general? We are happy to visit you with tailor-made presentations and workshops.
Video conservation is a complex process with special technical requirements.
Due to the importance of using video technologies to preserve the cultural legacy of the performing arts, the SAPA team provides consulting services in the following areas of expertise:
video formats, Codec, technologies, long-term digital archiving, international standards and recommendations
digitisation and archiving of various analogue and digital video formats
preservation of external collections
cleaning and restoring of analogue videos in collaboration with the atelier for video conservation in Bern
Outreach activities
In its endeavour to share the fascinating cultural heritage of the performing arts with a broad public, SAPA offers varying formats of outreach activity.
In doing so, the Foundation subscribes to the concept of a modern archiving practice – think Living Archive – the aim of which is not simply to preserve the treasures of the past, but to take a dynamic and productive approach to archiving and create multi-perspective forms of access.
Exhibitions
Exhibitions are held on the SAPA premises in Lausanne and Bern:
Serge Lifar
14.05.2020 – 31.12.2021
The SAPA Foundation Lausanne invites you to its new semi-permanent exhibition on Serge Lifar. The exhibition was created in collaboration with the Fondation Serge Lifar, which donated an important collection of photographs to the SAPA Foundation in 2015.
Dancer, choreographer, pedagogue, author and dance ambassador, Serge Lifar was one of the creators of neoclassical ballet. This symbolic figure made his mark on the history of 20th century dance and influenced a number of renowned artists, including Maurice Béjart.
The exhibition looks at the artist in four chapters: in his most famous two roles, firstly as Icarus and secondly as Giselle, in his unique personal technique and in the "corner of rarities", featuring photographic gems of his life and work. In this exhibition, the SAPA Foundation reveals its archival treasures and pays tribute to an important artist who spent the last years of his life in Lausanne.
The exhibition runs until 31 December 2021. Entry is free. Group tours are available on request.
Opening hours: Tuesday to Thursday, 10:00 am – 4:00 pm, or on request.
The Bern office is pleased to present a permanent exhibition on the topic of "Theatre, present and past". Objects as well as texts from various periods of theatre history are available for visitors to explore topics of particular interest in depth.
Various levels of information enable visitors to either view the exhibits on a short visit, or gain a deeper understanding of the topic through the explanatory texts.
The museum is open by appointment.
The SAPA team offers guided tours on request throughout the year.
Research
SAPA conducts scientific research in various ways, whether in the form of collaboration with universities and other institutions of higher education or by developing its own projects.
Current projects:
Identity discourse, theatre policy, and amateur drama reform
Research project run by SAPA + Institute of Theatre Studies, University of Bern (ITW)
Lead: PD Dr. Heidy Greco-Kaufmann
Co-lead: Prof. Dr. Beate Hochholdinger-Reiterer
Team members: Dr. Tobias Hoffmann, MA Simone Gfeller
Start: 1 November 2018, duration: 3 years, supported by SNSF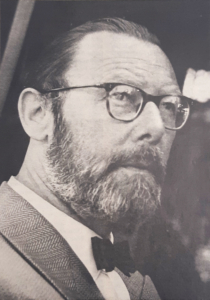 Oskar Eberle, a theatre scholar, dramatist and director famous for his role in professionalising the Swiss theatre industry, had a profound influence on theatre discourse in Switzerland in the 20th century. He founded the "Gesellschaft für Innerschweizer Theaterkultur" (Society of Theatre Arts in Central Switzerland), today known as the "Schweizerische Gesellschaft für Theaterkultur" (Swiss Society for Theatre Arts SGTK) and served as its managing director, editor and publicist. With recourse to the past and by separating it from 'foreign' theatre, he attempted to construct a national theatre identity and to reform Swiss theatre-making with his written theories and practical works. Celebrated during his lifetime as an innovator of amateur theatre and entrusted with staging national festivals (1939, 1941), he came under suspicion during his review of the federal policy of 'intellectual national defence' for his ideological affinity to populist and national socialist thought patterns. Since the extensive Eberle legacy, which is housed at SAPA, has not yet been processed, there is a lack of basic research on the details of the life and work of the greatest Swiss exponent of theatre in the interwar and wartime period.
The project entitled "Oskar Eberle (1902–1956): Identity discourse, theatre policy and amateur drama reform" aims to close this glaring research gap in the history of theatre in Switzerland, using a compilation and evaluation of biographical evidence and historical sources of the time. In an interdisciplinary exchange with experts in the field (project partners), the three project team members analyse the sources with regard to the issues relevant to the time. The plan is to develop an overall picture that traces Eberle's work as a theatre historian, theatre practitioner and advocate of national festivals, and interprets it in the context of the period.
Productions on sanctity in the context of confessional disputes
Swiss plays on sainthood and martyrdom in the 16th and early 17th century
Lead: Prof. Dr. Cora Dietl, University of Giessen
Swiss project partner: PD Dr. Heidy Greco-Kaufmann
Supported by the Deutsche Forschungsgemeinschaft (DFG) – duration 2017-2021
Past projects:
The Story of Dance in Switzerland
Conversations with Ursula Pellaton
Besides collecting and archiving existing material in the field of the performing arts, SAPA also works on creating new material. Oral accounts of key figures playing their role in the fleeting art of dance have already been recorded in the film Traces of Dance (Tanzspuren).
This project voices the words of journalist Ursula Pellaton. She follows trends, movements, places and themes related to Swiss dance and reports on them in reviews, performance assessments, portraits, previews and articles.  Her expertise stretches back over half a century of dance history and extends far beyond her publications.
In conversation with Ursula Pellaton and using examples of oral history methods, her memories and descriptions are saved, and important documentary sources for Swiss dance history thereby secured. The audio-visual interviews are also available for viewing as raw material. The interviews will also be transcribed and form the subject of a publication in the SAPA series.
This project forms part of:
Traces of Dance
An oral history of Swiss dance history
Dance is a fleeting art form – which means that documenting it presents a number of difficulties. In Switzerland in particular, sources are patchy and its dance history correspondingly filled with gaps. To reflect newer approaches to archival practice, SAPA also wants to play its role in actively creating archival material and to this end launched an oral history project in 2012: between 2012 and 2016, the project team conducted interviews with ten dance practitioners based in Switzerland.
The pilot project received an award in 2012 from the Federal Office of Culture FOC and was made possible by financial support from FOC, the Loterie Romande and the Stanley Thomas Johnson Foundation.
The Oral History Project of the Swiss Dance Archive forms part of the Network of Swiss Oral History
Based on the interviews in the pilot project, the Swiss Dance Archive wove the ten stories of the dance creators into a touching one-hour cinematic portrait. After the great success of the premiere at the 2015 Winterthur Dance Festival, the first SAPA video production has been shown at many other events. SAPA continues to offer narrated screenings.
The National Dance Inventory is an index of all localities and institutions that hold archives on the history of dance in Switzerland.  
As a reference institution, the SAPA Foundation has set itself the goal of creating an overview of the archival fonds available in Switzerland on our country's choreographic heritage and to provide detailed information about the individual collections and archives.
Such an overall view enhances the visibility of the existing collections and facilitates the permanent preservation of the rich cultural heritage of dance in Switzerland and its accessibility to the public.
The nationwide project launched in 2017 aims to:
provide an overview of the choreographic heritage of Switzerland
evaluate the state of preservation of the archival fonds
elaboration of an intervention strategy for heritage conservation
acquire additional information on the archival fonds stored in the SAPA Foundation
inform the public and facilitate access to Switzerland's dance heritage
Publications
The SAPA Foundation compiles various articles and documents, as well as catalogues for its exhibitions, and publishes project-related DVDs. These are available at the Lausanne and Zurich offices or can be ordered by e-mail or telephone.